Find the Best Used Cars for Your Driving Needs in San Diego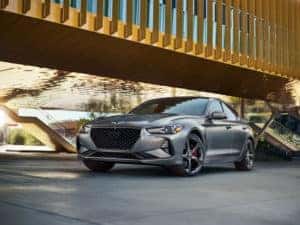 When it comes to used cars in San Diego, you can't go wrong with the available vehicles here at Genesis of Kearny Mesa. We take pride in the cars, parts, and services we offer here at our San Diego dealership, and our team works one-on-one with you to find a new luxury performance vehicle that just fits. It all starts with that first test drive.
What to Look for When Purchasing a Used Car
There are many benefits to purchasing a pre-owned car, but you want to make sure that it's the best pre-owned vehicle for your driving needs. Here are a few things to consider when searching for your next pre-owned ride:
Steering, Stopping, and Starting: It's always important to test out how a car feels on the open road. Check the responsiveness of the handling, how well it accelerates, and if it brakes quickly.
What Entertainment Features Are Available? The Genesis cars available here at Genesis of Kearny Mesa are equipped with innovative new entertainment and comfort features. Check out navigation and streaming programs, audio systems, interior detailing, and charging and USB port options.
Does it Have Enough Space? We have a wide inventory of sedans and SUVs here at our dealership. Check the seating options, towing strength, and interior and trunk cargo space to make sure it has what you need.
How Safe Is It? Genesis of Kearny Mesa is dedicated to sharing only the safest, most reliable vehicles on the market. Ask your detail about the available safety systems of the model you're interested in.
Is it Comfortable? At the end of the day, it's all about how the car makes you feel. Test out comfort, ease of access, ride smoothness, and more.
There's an exciting pre-owned Genesis model waiting for you here at Genesis of Kearny Mesa. Schedule your next test drive in San Diego today.