Genesis Tire Service in Kearny Mesa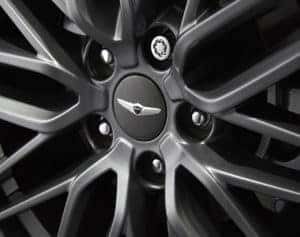 When you visit Genesis of Kearny Mesa, you'll find a fully equipped service center that's ready to handle all of your luxury car care needs. Part of that means helping you care for your Genesis tires so that they last as long as possible.
Types of Tire Service
One of the most important types of tire service is tire rotation. Our mechanics take the wheels off your vehicle and put them back on, in different positions. This helps them wear down evenly and splits the workload between the tires a little better, especially on front-wheel-drive or rear-wheel-drive models.
We can also perform a wheel alignment. This ensures that your car rides smoothly and that the tires all hit the ground at the same angle. Sometimes you hit a bump or something else that throws off your alignment. If your car's ride seems "off," an alignment service could fix it.
Of course, we'll also repair any damage and check the tread depth. We'll also make sure that your tires are properly inflated to manufacturer guidelines.
Why it's Important
Tire service is important because it keeps your tires in top shape for longer. This is important because tires that are in bad shape do not offer the traction that you need. Driving on worn and poorly cared for tires can be dangerous.
Taking care of your tires also saves you money. Tire service helps your tires last as long as possible. Replacing tires is expensive and you normally have to replace all four when one or two tires have reached their limit. Tire service can help you put off this expense as long as possible.
If you're in need of tire service or any other type of maintenance, we're ready to assist you. Visit our service center and Genesis dealership near San Diego and speak with our skilled mechanics today. We look forward to assisting you!