The 2021 Genesis G80 vs. 2021 Audi A6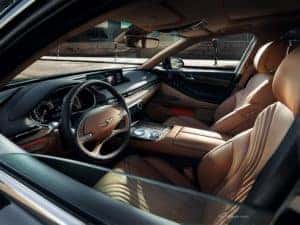 The Genesis G80 is a stylish luxury car with a lot to offer. All of us here at Genesis of Kearny Mesa have been quite impressed with it, and we think that you'll feel the same way once you see it for yourself. In fact, we think that it is vastly superior to competing models like the 2021 Audi A6.
Performance
This is one area where the 2021 Genesis G80 truly excels. It comes equipped with a 2.5-liter turbocharged engine capable of producing 300 horsepower and 311 lb-ft of torque. The Audi model offers a smaller 2.0-liter engine that maxes out at 248 horsepower and 273 lb-ft of torque.
Both models are also available with more powerful engines. The 3.5-liter V6 engine available on the Genesis model puts out 375 horsepower and 391 lb-ft of torque.
The available 3.0-liter engine on the 2021 Audi A6 maxes out at 335 horsepower and 369 lb-ft of torque. Both offer dynamic driving experiences, but we have to give the edge to the 2021 Genesis G80.
The Price
The 2021 Genesis G80 offers a lot for the money. It starts at $47,700 MSRP, which is much lower than most other models in its class. That includes the 2021 Audi A6, which starts at $54,900 MSRP. Why not choose the Genesis vehicle and get more car for your money?
Interior Space
The 2021 Genesis G80 might also be preferable for taller drivers and passengers. Its front row offers more than three inches of extra head room and over an inch of extra legroom compared to the 2021 Audi A6.
The second row on the Genesis model is also more spacious. You get 38.7 inches of legroom, compared to 37.4 inches in the Audi vehicle.
If you're looking for a luxurious performance car that offers incredible bang for your buck, you have to check out the 2021 Genesis G80. Visit our Genesis dealership serving San Diego. Once you see this new Genesis car for yourself, you'll want to drive it right home!